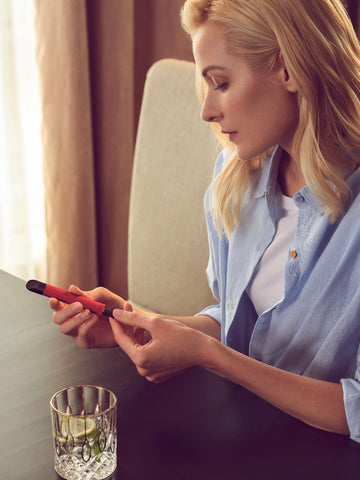 Did your vape pen suddenly start blinking, and you have no idea why? 
While a blinking pen can be annoying, it may not necessarily indicate a serious issue or malfunction of the device..
Keep reading to learn some of the common reasons why vape pens blink and how to stop this light from flashing. 
Why Do RELX Devices Blink?
There are a few reasons why a RELX vape pen might start to blink. Generally, a blinking light indicates that the vape pen is trying to warn you that your device is not working as it should or the battery is low. And please note, not every device has the same indicator light features. 
Here are a few reasons why your vape pen might start blinking: 
Low Battery:

Many vape pens will blink simply to let you know that it is almost out of power and needs charging. 

Improperly Installed Vape Pod:

It is possible the vape device cannot detect the pod. 

Insufficient e-liquid:

 Some vape pen models will blink if the level of e-liquid in the cartridge has become depleted.

Vibration Alerts

: If you inhale 15 times in 15 minutes, the device will vibrate and flash to alert you. 
These signals are a functioning part of the machinery and are there to communicate that your device is working as normal. 
What if the Light is Changing Color or Pulsating?
The LED indicator light on some devices will change colors to indicate certain things. These color changes are related to the state of the battery. 
On some devices, the color may fluctuate from white to red when the battery is running low. The indicator light may also begin to pulsate while plugged in, which tells you that the battery is charging as it should.  
How to Fix a Blinking Vape Pen
If you determine that your vape pen blinking results from some sort of malfunction, then there are a few things you can try to remedy the problem. 
Charge the Battery:

 Simply plugging it in to charge the battery might stop the blinking in just a moment.

Replace or Refill the Cartridge:

 If a lack of e-liquid was the problem, replacing or refilling your cartridge should do the trick.
Often, one of the above-mentioned simple fixes will do the trick. If these methods do not work and you still find your vape pen blinking incessantly, you should consider reading your owner's manual. The manual should spell out all the reasons that your vape pen would be blinking. You can also check out our website for more information.  
Suppose you are experiencing problems with your vape pen, in addition to the blinking light. In that case, you should always keep your device at room temperature
Conclusion
If you notice your vape pen blinking, it is no cause to panic. It does not necessarily mean that the vape pen is broken or that something is seriously wrong with it. 
Most of the time, the blinking light is merely trying to tell you that something is off. That something could be as simple as the battery needs charging. 
If you just take a few moments to see what the problem might be, the odds are that you will be able to fix it yourself and get back to enjoying your vape pen in no time.