Colors: Black, silver, red, gold
Specifications
Dimensions: 112 mm x 23 mm x 10 mm
Battery: 380 mAh
Charge time: 45 minutes
Activation: Draw activated
Charger type: USB Type C
Pod material: FEELM Ceramic Maze coil
Pod capacity: 1.9 mL
Pod weight: 7 grams
Pod life span: appx. 500 puffs
Kit contents
1 x RELX Infinity
1 x USB Type-C charger
1 x User manual
Size, weight, and feel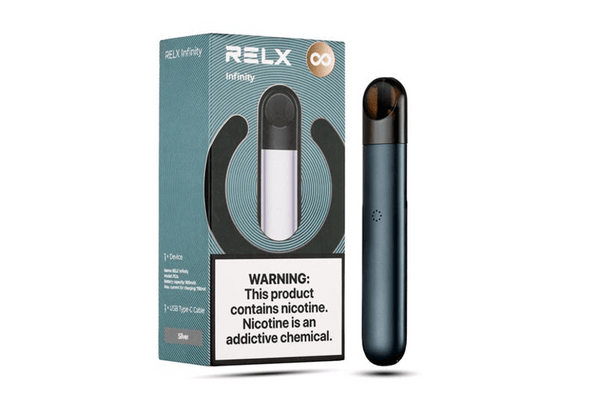 The RELX infinity measures at 112 mm x 23 mm x 10 mm and weighs in at around 25 grams with a full pod on. it feels good in the hand due to the rounded design. Overall, it is a very practical and lightweight vape that can easily fit in your pocket and you'll forget it is there.
What I really liked on the Infinity is the shape of the mouthpiece. The fact that it's flat makes it very comfortable on the lips.
RELX incorporated a vibrating mechanism on the Infinity and, while I thought it was a bit gimmicky at first, it does help with user experience. The gimmicky part is the vibration when you insert the pod in the battery. But it will also vibrate when you hit it 15 times inside a 15-minute period, which is a useful feature for those who want to monitor their consumption. Finally, there is a dotted circle made out of LED lights up front, which will light up every time you inhale and also serve as a battery indicator (more on that later on).
All in all, I am not surprised that the Infinity won the Red Dot award. It is a well-made and classy looking vape with some interesting and well-executed design ideas.
As with all prefilled pods, operating the RELX Infinity is as easy as it gets. You just need to take a pod out of its wrap, remove the cap and the silicon plugs from the top and the bottom, insert it into the battery and inhale on the mouthpiece. I like the fact that they included these tiny silicon plugs. I've had my fair share of leaking pods in the past  and finding a pool of juice inside the pod wrap is never a good indicator. Seems to me that RELX have done their homework, and it is the small touches like this that elevate a vape—especially when it is aiming at beginner vapers. Every pod comes with a QR code, and you can check for authenticity if you scan it.
How does it hit?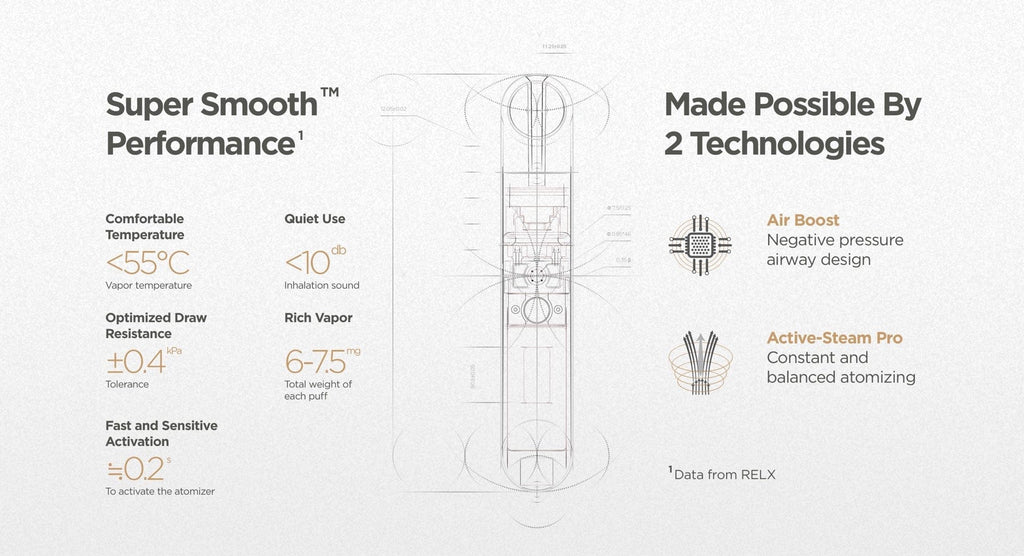 One word: smooth! The Infinity pods incorporate RELX's Super Smooth Tech and FEELM's latest pod design, with the pods made out of a whopping eight parts. They call that the "leak-resistant maze", and I for one can vouch that the tech combination provides a great, hassle-free vape. On top of that, it's almost completely silent! They claim that the sound it produces is under 10 decibels—I can't measure that, but I can ensure you that it's one of the most silent vapes I've ever tried.
I received four types of prefilled pods, 0%, 3%, 5% and the EU edition which comes in 1.8% nicotine. I'll also note that all the pods I received are mentholated, and they sure used a lot of menthol in them. Menthol juices tend to hit harder, and these pods are no exception.
The 5% and 3% pods are strong as expected. Heavy smokers should probably go for the 5% pods while half-a-pack smokers will probably be content with the 3% ones. The interesting thing was that they weren't that much different to each other. The 5% do feel stronger, but certainly not almost twice as strong.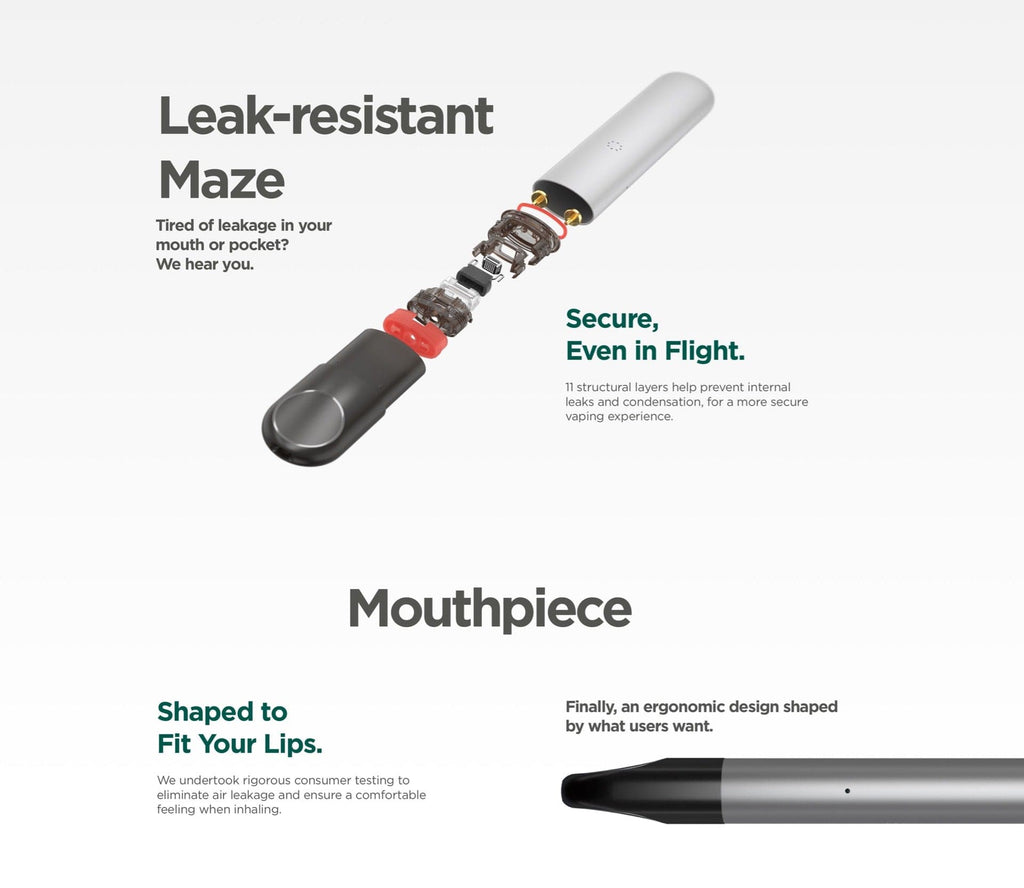 The 1.8% pods were a pleasant surprise. Most of the times, companies that offer 5% salt pods tend to produce weak EU editions. But that's not the case here. Their 18 mg/mL pods have benzoic acid in their ingredients, which means that they also contain nicotine salts. But these pods hit very close to the 3% pods, which makes me think that they must have used some type of hybrid nicotine. As an EU vaper, nine out of the ten prefilled pod vapes I try feel weak and unsatisfying. These are easily some of the most satisfying pods in this product category.
Last but not least, the 0% pods. Interestingly, and obviously due to the menthol content, even these come with a throat hit—or at least an illusion of it. Simply put, if you are planning on going nic-free, these pods are an excellent choice. In fact, I may have cut down my nic consumption a bit, as I've been hitting the 0% menthol pod a lot these last two days. But be prepared: if you chain vape those, they will make your brain freeze!

What to Expect from the RELX Infinity Pod System?
First mention is their recent Red Dot Award for product design. A good start.
The Infinity is named as such as it is designed to offer infinite taste, utility and convenience. It has a host of features for what looks on the outside to be a basic pod system.
The kit comes with a 380mAh battery, type C fast charging and what RELX call SuperSmooth technology. This is said to provide a smooth, velvety vape that will be similar to smoking.
This device was sent to us for the purposes of review. As always, my views are my own.
In The Box
Very tidy packaging, very Apple esque. Inside:
RELX Infinity Mod (Battery)
1 x USB-C Charging Cable
1 X User Manual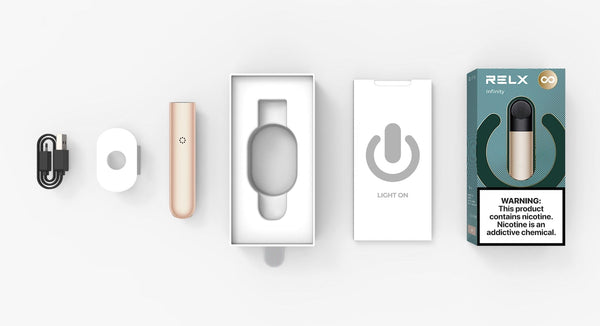 Features
380mAh Battery
Fast Charging
1.9ml Tank Capacity
SuperSmooth Technology
Automatic (Draw activated)
Magnetic pod/battery connection
Leak Resistant with Maze technology
Portable charge case – Available to purchase separately
Available in 4 colours – Red | Silver | Black | Gold
Design And Build Quality
The RELX Infinity fits into the lightweight pod category with an Aluminum Unibody construction.
It has definitely been designed to be portable without feeling like you have a small rock in your pocket. A good start.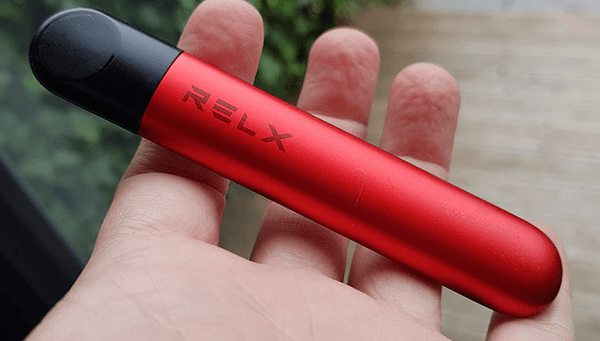 It's all rounded edges, smooth to touch and houses the USB-C port on the base as well as 2 inset charging connectors either side that allow the pod mod to click into the charging case.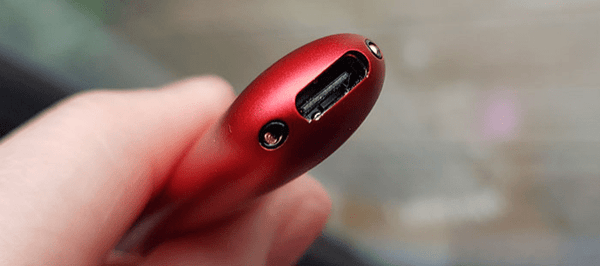 We have the RELX branding on one side, a couple of small airflow holes on either edge of the body and a small round light on one side. This light up as you vape and indicates your battery level.
White LED – Regular Use
Red Slow Flash – Low power
Red light flashes 10 times – No power
RELX Pro Pods
Now the kit doesn't come with a pod included so you will have to add these to your order. The good news is the actual Infinity pod system is well priced.
The Pro pods come foil sealed, in a sleeve with plugs in the mouthpiece end and the base as well. Just be sure to remove both plugs before vaping or you will be wondering why nothing's happening.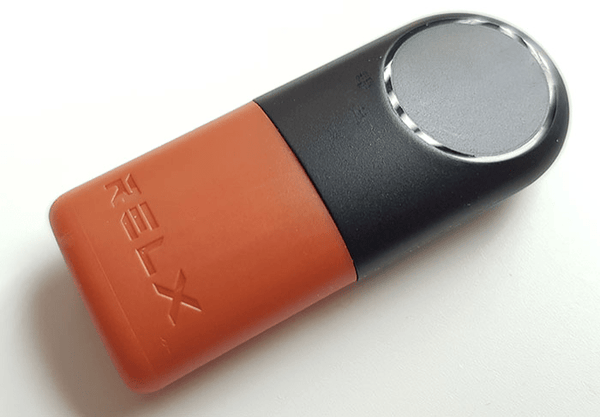 There is even a small QR code on the side of each pod. Scan this and it takes you to their website to let you know you have an authentic product.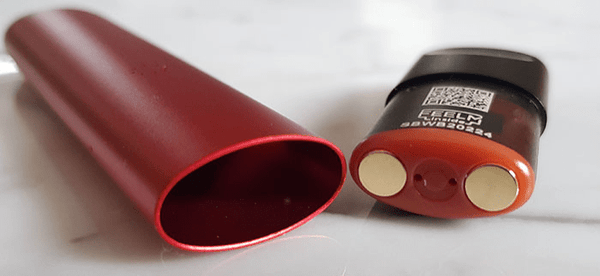 When placing the pods in the battery you will get a little buzz (in the device) unless of course the small things in life excite you.
Leaking
RELX has gone a long way in ensuring there are no leaks from their pods with their Maze technology. Nothing worse than getting e-liquid residue all over the place.
They have done a great job here. Zero leaks from the pods when vaping, not even a drop of moisture in the packaging. Top marks.