QUICK LINK
All the Essentials
From the Lab to Reality
RELX Infinity Pods Offer Leak Resistance
Infinity vs. Essential: Two Shapes, One Smooth Experience
RELX Essential has arrived! The new Essential device has all the basics you need at one amazing price. 
If you are new to vaping, some key features to appreciate in your vape device include: dependable power, device reliability, a smooth mouthfeel and overall design. 
We are proud to launch the RELX Essential which incorporates all of these necessities into one device.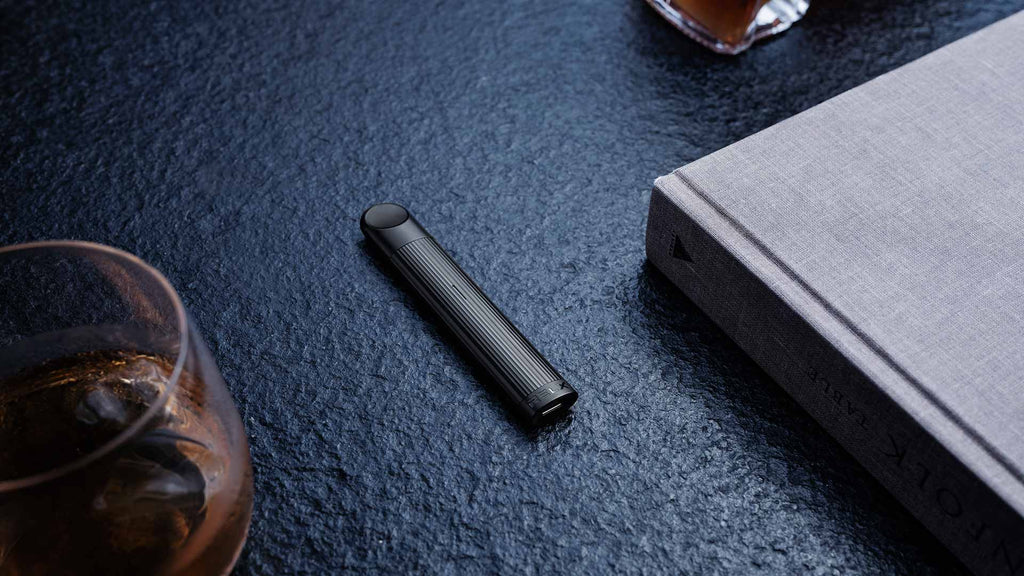 All the Essentials 
Let's review the new RELX Essential, which is designed for every vaper's daily vaping sessions. 
For power, Essential will last up to 360 puffs on a single charge and can be easily recharged with a USB-C cable in around 40 minutes. 
As for reliability, Essential's design is unique. The wavy surface texture serves dual purposes: providing protection from everyday wear and tear, as well as being easy to grip and retrieve from your bag or pocket. 
The mouthfeel Essential provides is really smooth thanks to two proprietary technologies. From the first to last puff, Essential is Super Smooth™. 
As for the overall design, Essential is sleek, stylish and easy to use. The symmetrical pods make it easy to switch out in seconds. And, if you're ever running low on power, the indicator light conveniently lets you know when it's time to recharge. 
All aspects of RELX Essential were designed to deliver an intuitive experience, a Super Smooth™ mouthfeel and everyday reliability.  
From the Lab to Reality
RELX Essential is Super Smooth™ every time you vape.
This is made possible by two key RELX technologies in the unibody vape: the Active-steam Pro and Air Boost design. Active-steam Pro achieves a consistent vapour volume and quality by actively balancing and controlling both atomizing power and temperature; while the aerodynamic Air Boost design creates negative pressure that pushes the vapour up from the atomizer. 
Unlike other vape devices which can sometimes be harsh on your throat or leave unpleasant tastes in your mouth, all RELX devices deliver a smooth mouthfeel.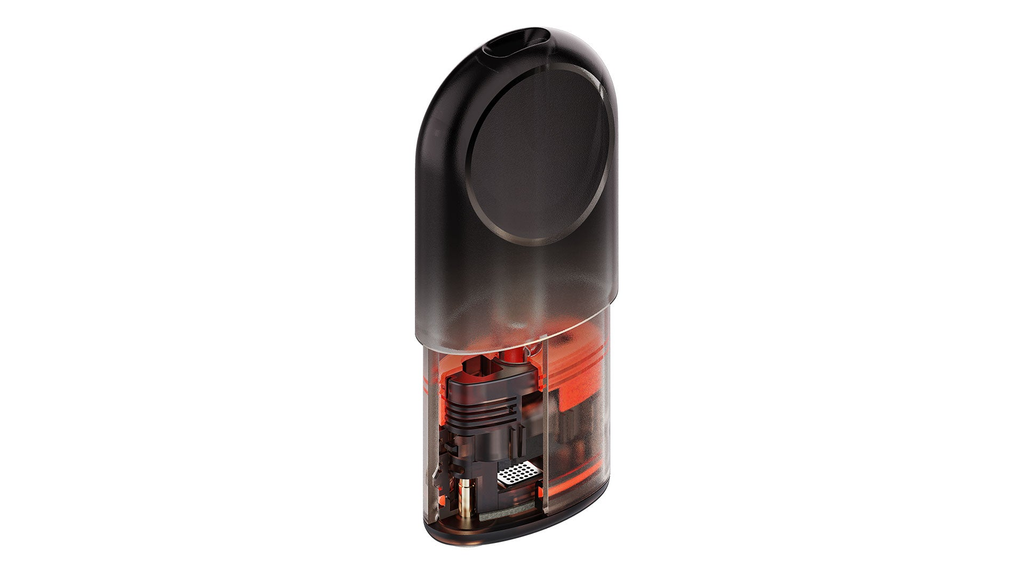 Sometimes when using a vape device, leaking can happen. We designed our new RELX Infinity Pod to prevent leaking. One reason your vape device may leak is when the oversaturated atomizer can't hold the e-liquid or vape juice and the overflow leaks into your pocket or on your belongings. Another reason is changes in pressure when travelling. It's a mess no one wants.  
The next generation of ceramic pods, RELX Infinity Pod, resists leaking with 11 structural layers and helps prevent internal leaks by trapping any condensation in the intelligent maze-like structure. Your vape pen will be ready every time you need it without a mess to clean up. Also, whenever and however you travel, your RELX vape device is equipped to withstand the changes in pressure.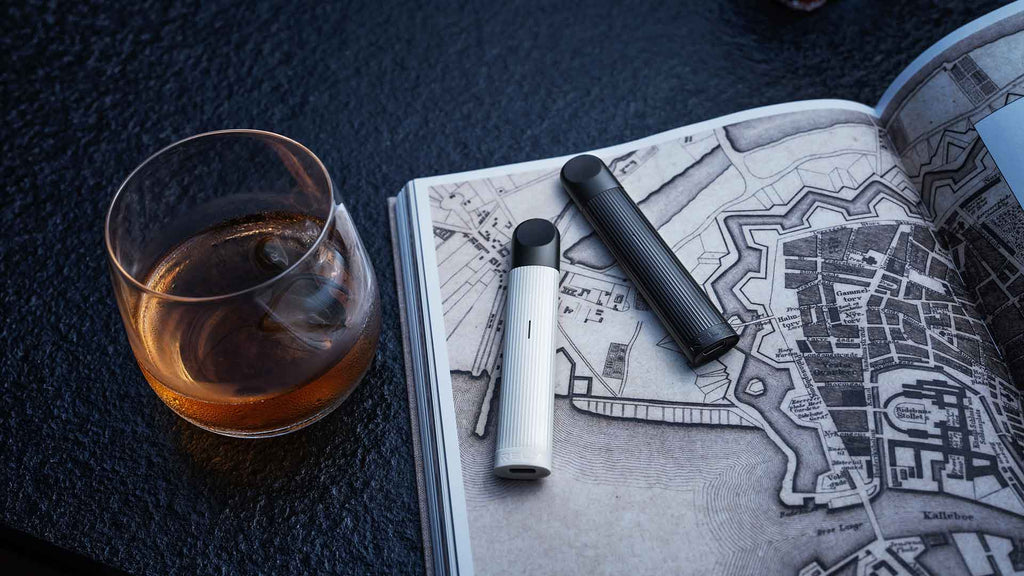 Infinity vs. Essential: Two Shapes, One Smooth Experience
In July 2020, RELX launched the RELX Infinity, which received a Red Dot Design award for it's prestigious design. Many of the great features of RELX Infinity can be found in the new RELX Essential device. To learn more about our Red Dot Design award, you can check out this post! 
The key differences between RELX Infinity and Essential are the charging options, design and battery life. Infinity has a dual-charging design that features both a built-in pogo pin and a USB-C port. With the accompanying charging case, you can charge on-the-go for up to 3 extra days of battery life.
The built-in pogo pin also opens up more possibilities for more scenarios with RELX accessories, like the on-desk charging dock.*
Another added feature Infinity offers is the built-in SmartPace Alert system which enables you to keep track of your vaping. If you take over 15 puffs within 15 minutes, the device will send a notice in the form of a slight vibration to notify you.
Essential is our entry-point device that provides all you need in a vape pen at an affordable price. For users who are not looking for the added features of extra battery life, or a SmartPace Alert system, then the Essential is a perfect solution.
Both deliver our Super Smooth™ performance standard and use our RELX Infinity Pod. 
The choice is yours.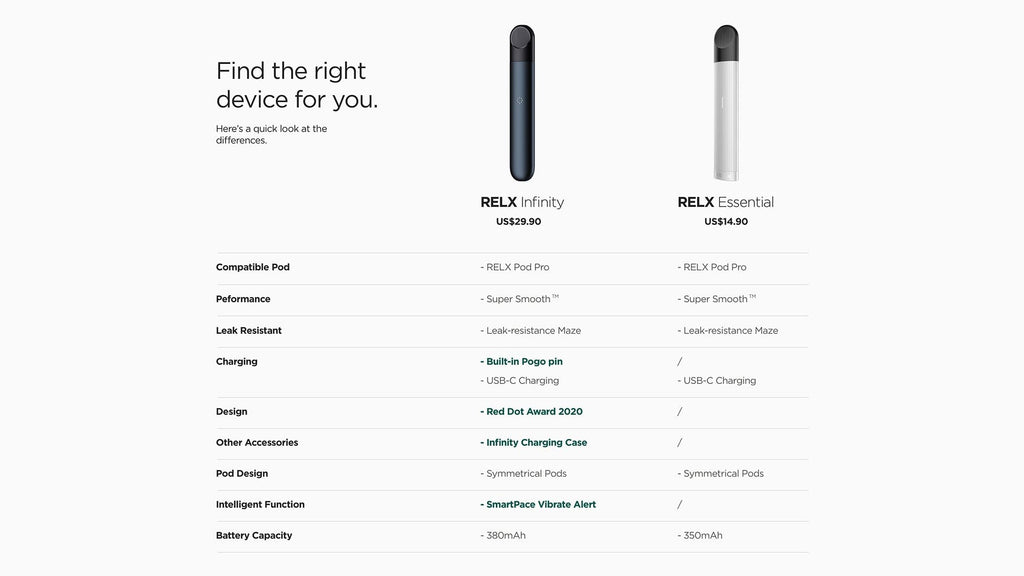 More About Us
RELX's products are not just simple vaping devices. They are cutting-edge accessories that represent the most advanced generation of vaping technology. RELX also offers vaping starter kits for people who want to transition away from smoking. Our vaping devices and products combine elegant and modern designs with innovative, next-generation technology to provide you with a reliable and stylish replacement for cigarette smoking.
You can purchase any of our products here on our website. With global shipping services, we're more than happy to deliver any products you purchase right to your doorstep. If you would rather visit a physical store, you can use our Store Locator to find a RELX retailer near you.